How much time do we have to meet as a family?
What ways of connection do we use to relate and communicate with the whole family and each one of us?
Would you like to have quality time with your family and strengthen
your ties while you practice a playful and healthy activity?
Family Yoga offers us the opportunity to share the benefits of a thousand-year-old practice while uniting us as a family and connecting us by communicating in non-verbal ways.
Making way for feelings and contact.
It places us in the Present Moment, without distractions or third parties, guaranteeing quality time for our own. A moment for play, laughter, emotion and calm.
Family Yoga makes us work as a team aware of who we are, what role we play and how we relate. Recognizing that we are all one and all, unique, we are important.
An invitation to SELF-KNOWLEDGE and EMPATHY. To look at me and see me in the other. To see and know them a little more from a conscious and open way.
From tolerance, acceptance and affection. Promoting a space of harmony to express or demonstrate what we feel or think, what we need from others and how we can accompany the other! How to share the Common Way!
By practicing all together, we learn to help each other, recognizing roles and putting mutual respect and tolerance into practice.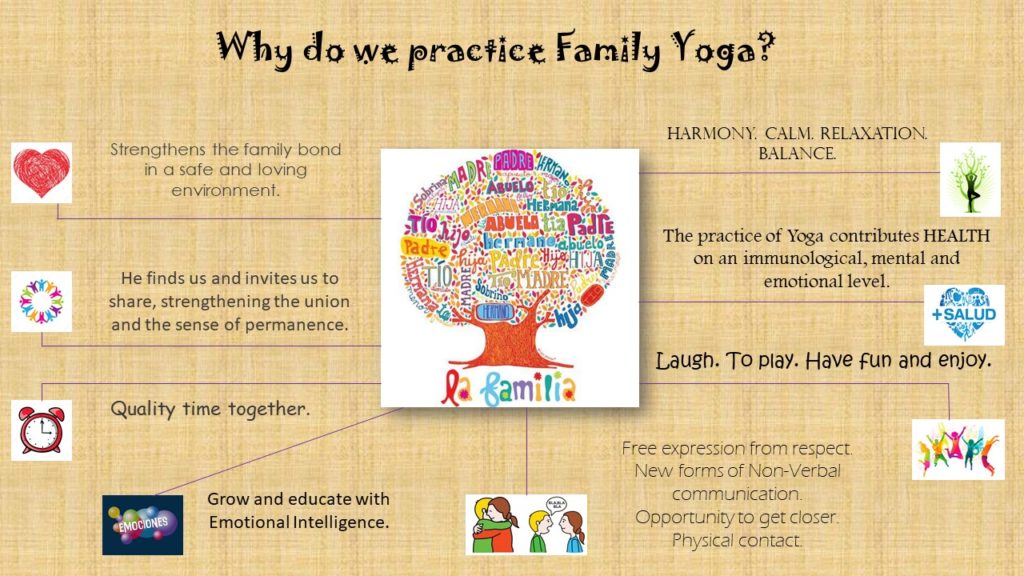 Because it is at home, in family where we learn the first values
as a Community …
  It is from Mom, Dad, Grandparents and Brothers where examples to imitate arise …
Because it is our center, our refuge, our meeting place …